As mentioned in the previous post, I decided to give myself a challenge by testing the best face masks from the ingredients that everybody got at home. This is the second part. If larger pores, acne and unsightly blemishes are bothering you, like myself, 😊 there are some smart ways to shrink them. The market is loaded with products to fight blemishes, acne but they are often chemical-based and might be harsh on the skin. So, why spend big cash on any artificial products, when you can try out these incredibly easy face masks, right in your kitchen?! It doesn't hurt to try.
HOMEMADE FACE MASKS
1.ALOE VERA + HONEY
(can help to get rid of blemishes, acne)
Aloe Vera got wonderful skin-soothing and healing properties. It can be easily processed to create a simple yet effective facial mask to treat acne and soothe inflammation that causes redness.
Honey, rich in antioxidants, helps stave off skin damaging free radicals promoting a healthier younger looking skin.
This face mask combines the anti-inflammatory benefits (Aloe Vera) with the anti-microbial properties (honey) for a treatment that can soothe your skin and fight acne at the same time.
Things You'll Need
1 TBSP Aloe Vera Gel
1 TBSP Raw Honey (raw honey works the best, but regular store-bought one also does the trick )

Bowl

Spoon

Knife
 How to Make an Aloe Vera and Honey Facial Mask
Add 1 tablespoon of Aloe Vera gel to a bowl

Add 1 tablespoon of honey to the bowl

Stir the ingredients with a spoon until they're well-combined

Apply this mask to your face, making sure to cover all affected areas

Leave the mask on your skin for 20 minutes

Rinse your face with warm water to remove the mask and pat your skin dry with a towel
Tips:
 you can extract the gel from the aloe plant if you have one at home or use a 100% pure Aloe Vera gel from the health store

 if you are vegan, simply swap honey out for agave nectar to achieve the same sticky consistency

 Aloe Vera may cause irritation to allergic or sensitive persons, so do the patch test first if you think it is needed. Simply apply a small amount of aloe gel to the tiny area on your skin and wait for a reaction. If it reacts, then do not use this mask on your skin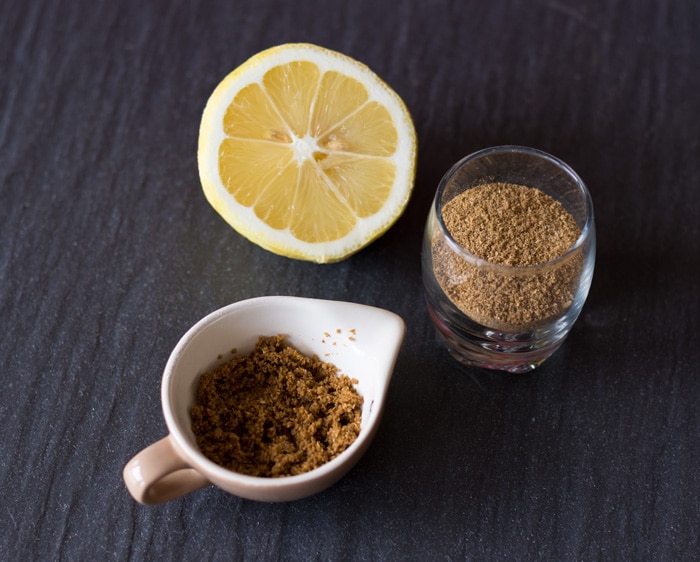 2.CARDAMOM + LEMON
(to treat blemishes)
Cardamom has vitamins A, B, C plus it contains antioxidants and infection fighting properties that can increase the recovery time of dark spots and blemishes.
Lemon is loaded with vitamin C and will aid in lightening blemishes or dark spots, and will even out the skin tone. It will also bring a glow to your face by cleaning your skin right down to the pores.
Ingredients:
 How to Make a Cardamom and Lemon Facial Mask
Add 1 tablespoon of cardamom powder to a bowl

Add 3 teaspoons of lemon juice to the bowl

Mix well until they're fully combined

Gently massage this mask onto your face and leave it on for 10 minutes

Then wash the mask off with lukewarm water and dry out
No need to use this mask more than once a week 😊
Tips:
 using lemon in face mask will make your skin photosensitive, so make sure to use a sunscreen if you're going to be out in the sun 😊

 since cardamom is fairly potent to burn your skin, if you have a sensitive one, you'll want to do a patch test to make sure your formula doesn't irritate your skin before you slather  it all over your face 😊
 3.ALMOND MILK + MANUKA HONEY
(to nourish your skin naturally, help with acne)
Almond milk is rich in vitamins A, D and E. Vitamins E and A, are known to act as antioxidants inside our body and strengthen our immune system against free radicals, which usually cause cell death. Vitamin D is known to keep the cells of the body strong and tight.
Manuka honey originates from New Zealand, where the bees feast on flowers of the Tea Tree plant. It has multiple skin benefits including anti-microbial properties which help fight off acne forming bacteria, helping skin to retain moisture and rejuvenating radiance and softness.
Things You'll Need
 How to Make an Almond Milk and Manuka Honey Facial Mask
Add 2 tablespoon of almond milk and 1 teaspoon of honey to a bowl. Mix them well with a spoon

Then add the water to this mixture and keep whisking it till you get a smooth batter

Use small amounts of this mask on your face and massage in circular motion for about 10 minutes

Leave the mask on for another 5-15 minutes

Then rinse your face with warm water to remove the mask and pat your skin dry
4.STRAWBERRIES + GRAM FLOUR
(for oily skin and acne)
Strawberries are loaded with vitamin C (skin lightening, brightening and anti-aging benefits), and antioxidants, alpha hydroxyl acids, salicylic acid (help remove dead skin cells, treat acne and pamper the skin). Strawberries are particularly good for oily and acne-prone skin as they help remove excess sebum. They also work as a great skin toner, thanks to their astringent properties.
The gram flour helps absorbing excess oil from your skin, while also helps to remove dead skin cells, dirt, grime, and other impurities. It works best on oily skin.
 Ingredients:
 How to Make Strawberries and Gram Flour Facial Mask
 

Cut 3 ripe strawberries into pieces and mash them thoroughly using a fork

Add 2 teaspoon of gram flour to and mix well to form a smooth paste

Apply it evenly over your face, leaving it on for 20 minutes

Then wash the mask off with lukewarm water and dry out
Use this facial mask three times a week to control oily skin.
With these masks, you surely have a variety to choose from. So, use these recipes and help your skin with all the nourishment it deserves!
Keep in mind that these are the masks that work gradually. If you are consistent with applying it at least two times a week (except the Cardamom Lemon mask) you will see a huge improvement to your skin.
Now go on and give it a try!
Have you ever made any natural mask at home? If so, share it with us!
Affiliate Disclosure
Threehillssoap.ie is a participant in the Amazon Services LLC Associates Program, an affiliate advertising program designed to provide a means for sites to earn advertising fees by advertising and linking to Amazon.com. Pages on this site may include affiliate links to Amazon and it's affiliate sites on which the owner of this website will make a referral commission.