It seems that no matter how well you take care of your facial skin, large pores can always find their way to your face, leading to blemishes.
So I decided to give myself a challenge by collecting and testing the best homemade face masks from the ingredients that everybody can easily find at home.
The beauty of making your own homemade face masks is that you can blend in other ingredients to tailor the mask to your own beauty needs. At home, you can mix in a few ingredients and create your own personal mask. Not only will this save you money, but you'll be putting an all-natural product onto your face 😊
QUICK TIPS TO MINIMIZE PORES
Wash your face every day but don't overdo it. Use a daily gentle scrub and soap (you can buy here) to help unclog pores because pores enlarge when they become clogged with dirt, oil, or bacteria, causing them to become inflamed. Washing twice a day will help keep pores look smaller and feel better.

Keep the area cold. When washing the face, use cold water. This will have a tightening effect on the skin.
HOMEMADE FACE MASKS



1.TOMATOES
(can help to get rid of acne, blackheads, blemishes, can brighten dull skin)
Consistent application also aids in the removal of blackheads, shrinking of pores, whitening and smoothing of the skin as tomato has a rich lycopene content which can give you lovely glowing look. Its antibacterial properties also make it a good remedy for acne. Honey has skin lightening and brightening properties.
Things You'll Need
1 fresh ripe tomato

1 tbsp. of honey

Knife

Blender
 How to Make a Tomato Facial Mask
 w

ash the tomato and blend it until you get a smooth puree

 stir in the honey and mix well

 apply the mixture onto your face and let it sit for at least 15 minutes

 then wash it off with cold water and pat your face dry (my skin felt fresher, hydrated and clean)
Tips
If you prefer a quicker variant: Take half a tomato and massage your face or even neck with it, leave it for 15 minutes and then rinse it off. After applying the pulp, I felt a slight "stinging" on my skin for the first 5 to 10 minutes and then my skin felt tight.
2.CARROTS
(remove blemishes/acne scars)
Carrots are antiseptic and used in a homemade facial mask they help tone and rejuvenate your skin. Carrot-based facial masks are ideal for normal to oily skin.
Things You'll Need
2 large peeled carrots

Small pot

Small bowl

Fork
How to Make a Carrot Facial Mask
Wash and peel two carrots and slice them into small rounds. Boil the carrots until they're easily pierced with a fork. Drain the water away and pour the cooked carrot slices into a small bowl

Mash the carrots up thoroughly with a fork until the mixture has reached a smooth consistency that suits you

Wait until the mask has cooled down completely and then apply this paste to your face

Leave it on your face for about 15-20 minutes and then rinse it off with cold water (I rinsed the mask off with milk and I really liked it) and then dry your face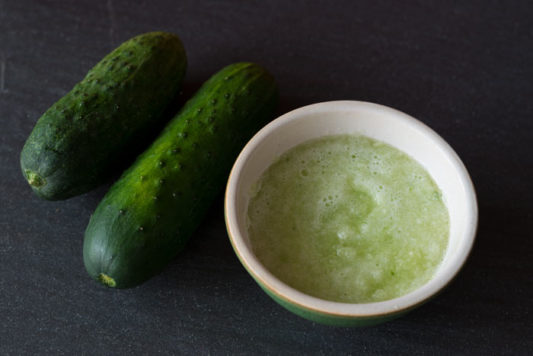 3.CUCUMBER
(removes marks/spots and freshens up your skin)
Cucumbers have positive effects on your skin due to their hydrating qualities. When applied topically, they can soothe irritated skin. You can create your own personal moisturizer directly at home.
Things You'll Need
1 large cucumber

Knife

Spoon

Blender

Small bowl
How to Make a Cucumber Facial Mask
Wash and peel a large cucumber and cut it lengthwise into spears. Carefully scoop out the seeds with a spoon. Cut seedless pieces into chunks

Throw cucumber chunks into a blender and puree it

Transfer the mixture into a bowl and apply to your face

Leave it there for about 15-minutes and then rinse it off with cold water and dry
Tips
If you want to save yourself time doing all the blending, simply massage your face with cucumber slices.

You can also use cucumber slices to soothe eyelids by placing them on closed eyes.

4.EGG WHITES
(for treating acne, fine lines and wrinkles, and dull skin)
Eggs whites are full of the proteins and collagen and therefore can improve skin tone and elasticity and are suitable for those who are fighting any type of skin inflammation.
Things You'll Need
1 egg white

Small bowl

Hand mixer
How to Make an Egg White Facial Mask
Separate the egg yolk and egg white

2. Beat the white into a frothy foam by using a hand mixer  

Spread the foam over your face

Leave it on your face until the mask is dried (I usually keep it on until it becomes a sticky texture. At first when you put the mask on, it will feel foamy and smooth, as it dries it becomes a little bit more of a clay type texture, this means it is working)

Then simply washed it away with water and dry out
Tips 
For a quicker way use a cotton ball to massage egg white on your face.
Please note: these are not an overnight remedy. It can take a few weeks to a few months. Patience and determination is a must! I really don't mind and I would prefer taking this safe and natural route. But I will definitely continue this natural remedy.
Enjoy the natural remedy to a healthier skin!
Will you try these any soon? Be sure to pin this for later!
Have you ever made any natural homemade face masks? If so, what results have you seen? Share it with us!